Pool table moves in Palmdale, California
Our pool table mechanics at SOLO® Palmdale Pool Table Movers have been serving Palmdale for years and we have built a solid reputation with our customers. We handle everything from start to finish. Should you need a complete move, tear down only, assembly, and/or refelting services.
Simply give us a call to get your free quote and schedule your pool table move or billiard table repair.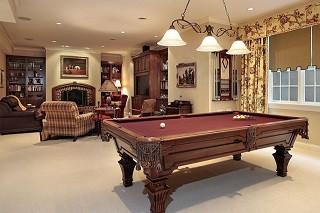 Pool table moves with our nationally backed company are easier than ever, accompanied by a guarantee of our service.
The Palmdale SOLO® Pool Table Movers have decades of experience moving pool tables. We move from home to home, business to business, or garage to garage for storage.
Be sure that you consider the risks of having your pool table moved by anyone other than a professional.
It is always a good idea to have experts come and tear down your pool table, move it, and assemble it the way they're meant to be moved.
We have carried out countless pool table moves and repairs. Also, not only are we covered under an exclusive guarantee from a national organization but your pool table and property are protected by our liability insurance. This, in turn, gives you the peace of mind that our competitors can't give you.
Members of the American Billiard Installers Association, we are a recognized business in our industry.
All of our pool table moves are backed in writing by the ABIA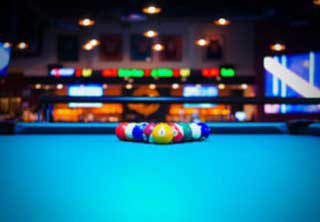 This is the only national organization that is working on raising up the service standards and practices in the billiard service industry.
The coverage lasts for a whole year and it protects you to the fullest extent. We guarantee our workmanship and the materials we provide for every billiard service.
We offer the only written document that also warrants the quality of the cloth we provide.
This includes the cloth used for refelting an already setup table or when we take care of a billiard table recovering during installation
Should there be any rips or tears or other issues or manufacturers No need to worry! We will return and fix the issues our guarantee covers at completely no charge to you. We are devoted to covering you in every possible way.
Be sure that you consider the risks of having your pool table moved by anyone other than a professional. We have the right tools and use the proper techniques to service your table.
We warrant precise-level pool table installations. To accomplish this we use a machinist level.
This ensures that you enjoy the best playing experience when using your table.
We are devoted to covering you in every possible way, and our unique guarantee lasts for one year after the completion of our services.
We are the only company backed by a formal national organization, with a written service guarantee that protects you to the fullest extent.
For each and every pool table refelting service in regards to any tears, rips, or manufacturers' defects.
The risks involved in possible damage or injury can be high. If you're interested in figuring out if the cost is worth the price, do not hesitate to go over our help guide to establish the cost to move your billiard table.
We put this together for you to help you make an informed decision.
We also offer expert pool table repair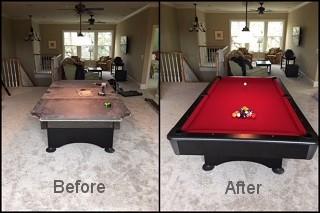 Let us take care of your pool table to repair it the right way. Our pool table installers are skilled to take care of most pool table repairs.
We have the experience and also guarantee the materials we provide for your pool table repair.
Common pool table repairs include pool table refelting, replacing the rubber cushions, and pocket repair.
Given that pool tables are intricate and elegant pieces of furniture, we definitely need to know specific details
Depending on the type of pool table felt, pocket style or type of cushion pictures also help us a lot to properly take care of the pool table repair service needed.
The process of moving and installing a pool table must be done by a trained professional pool table mover.
Are you looking for a pool table? check out our classifieds for pool tables for sale in the area.
Pricing your pool table repair or pool table move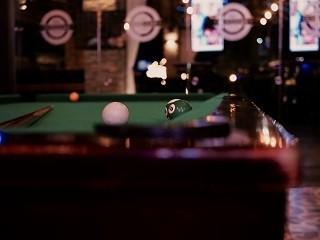 The pricing is based on the particulars of the table and circumstances surrounding the job and also if we need to provide materials.
Our pool table movers need to know so that we can give you an accurate quote and check on the availability
We may also need your game room dimensions and if there are any other furniture pieces in the room.
We can also help you verify if the pool table you are interested in will fit properly in your game room.
If you want to know which pool table size best fits your room, we have a pool table sizes guide that we recommend you to check. The risks involved in possible damage or injury can be high.
Let Palmdale Pool Table Movers take care of all your pool table needs.